Teaching
Naomi has been teaching at Birmingham Conservatoire since 2007. She has been Head of Saxophone since 2008.

In the heart of the Midlands, the saxophone department at Birmingham Conservatoire offers undergraduate and postgraduate courses which focus on individual development alongside building skills for employment in a variety of related fields. The department has recently attracted applicants from China, Brussels, Norway, Italy and South America.
For information about visiting tutors, specialist artists, department events and masterclasses please visit the conservatoire's website, www.bcu.ac.uk/conservatoire or click here for the saxophone department's Facebook page.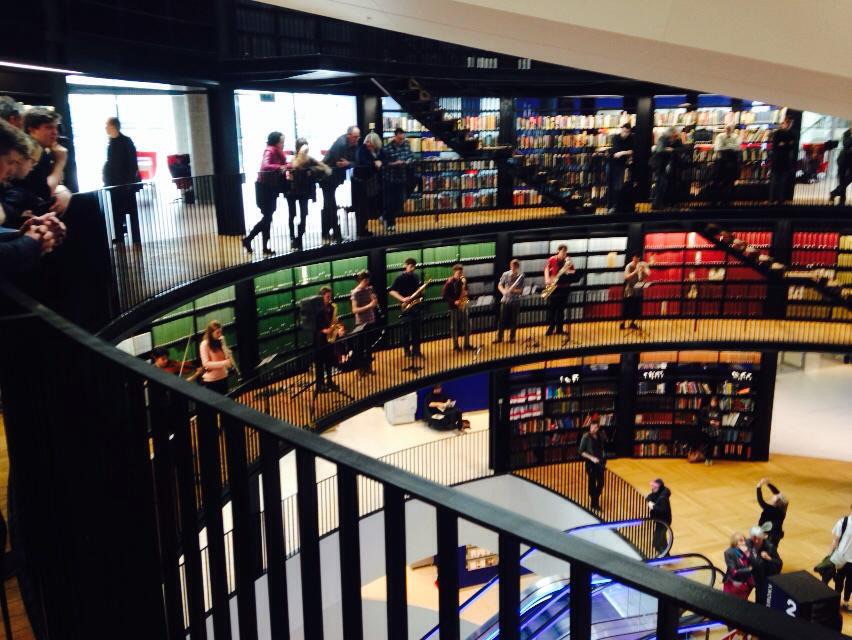 On graduation, Birmingham Conservatoire saxophone students often secure places to study in the UK and abroad for MMus or DMus degrees. Bachelor students have gone on to postgraduate studies at the Royal Conservatory of the Hague, University of Texas, Sam Houston University, University of North Carolina, Royal College of Music, Royal Northern College of Music, the University of Missouri-Kansas City or remain at Birmingham Conservatoire for course in saxophone performance, pedagogy, composition degrees and more.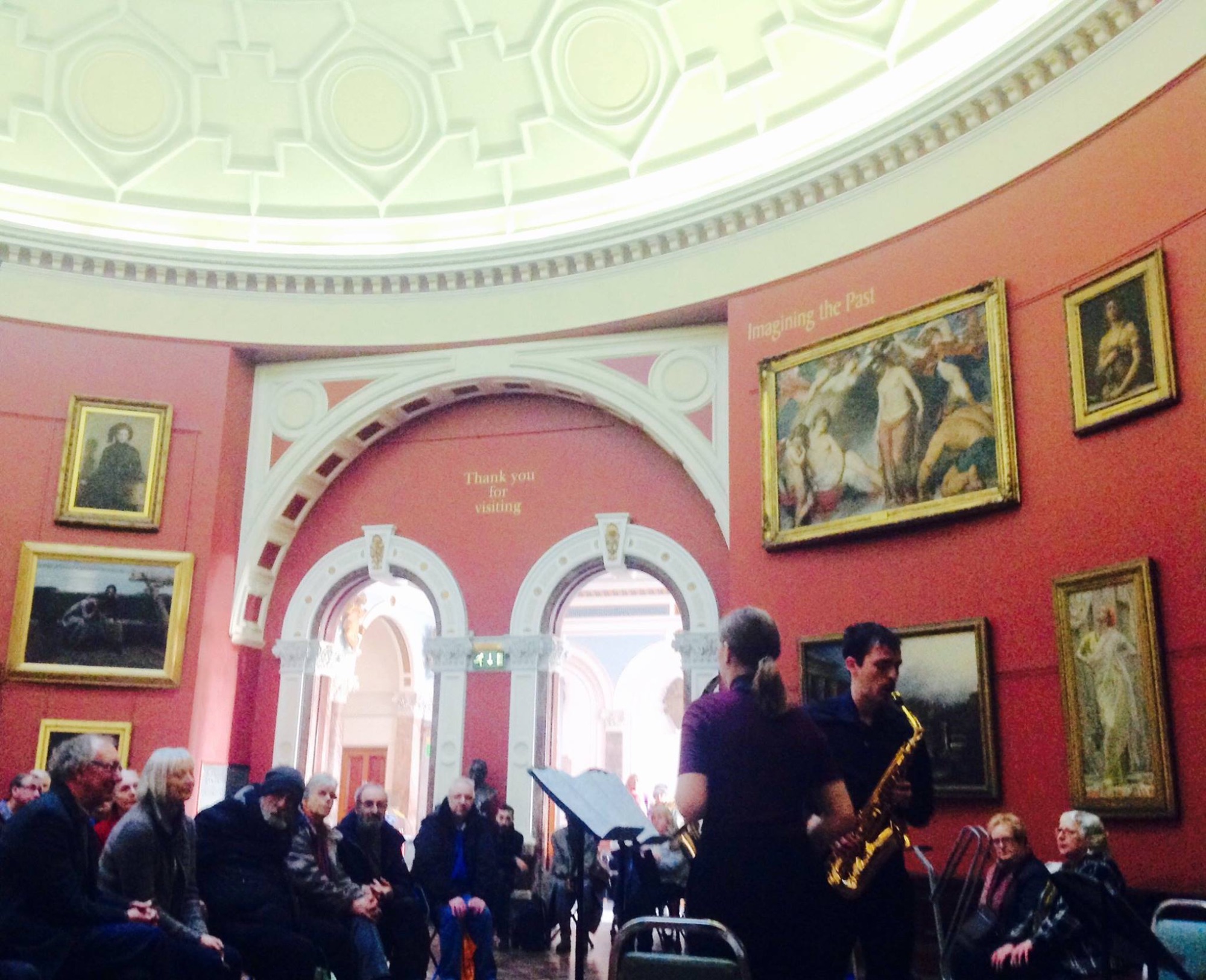 Current and recent graduates have had success at international competitions such as the Rosen-Schaffel Concerto Competition, 11th International Music Festival of Padova, the 2014 North American Saxophone Alliance Solo Competition and NASA chamber music competition.

Closer to home, postgraduate students past and present have gratefully received funding and support from major supporting bodies such as Help Musicians UK, the Tillett Trust and EMI Music Sound Foundation.
Many graduates choose a path to more immediate employment, going on to teaching positions in higher education in the UK, Asia and USA. Many graduates choose to work as freelance musicians, pursuing their own creative endeavours, such as the band - Punch the Sky. And some choose to work in education embarking on PGCE courses, working for Birmingham Music Services, schools in Warkwshire, Northhampshire and across the Midlands. There is a wealth of local music theatre companies offering experience, employment and a gateway to working in this genre. We have seen a number of graduates find a career in music therapy, academic music and outreach projects. Whilst other find employment as chamber musicians, conductors, instrument repair and much, much more. Please just contact Naomi or visit the conservatoire website for more information.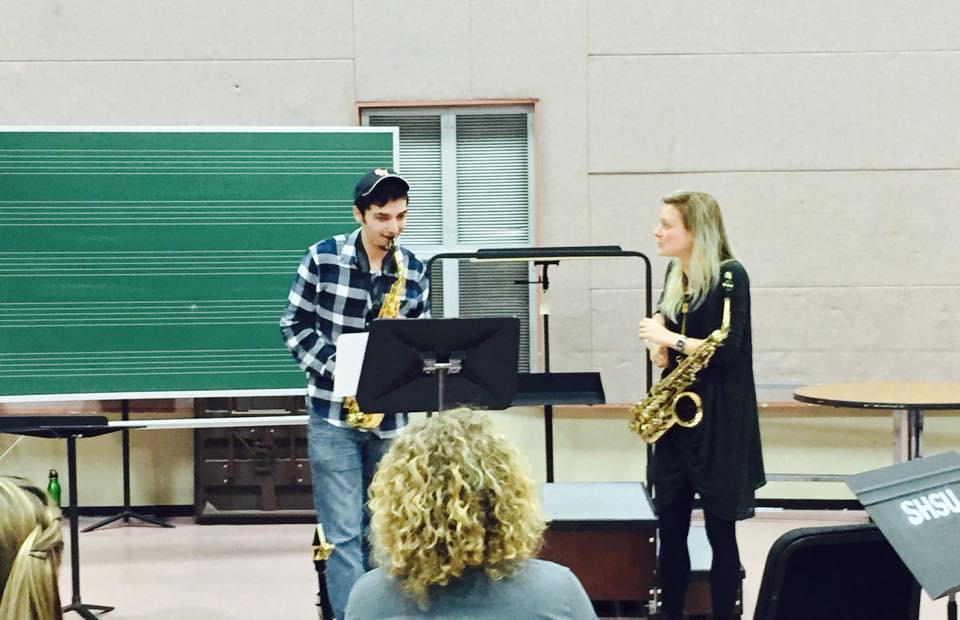 Naomi has given masterclasses in Europe and USA, including:
Conservatory of Ferrara, Conservatoire de la Ville Luxembourg, Norwegian Academy of Music Oslo, Royal Conservatory of Antwerp, Royal Conservatory of Brussels, University of Texas, Blinn College Texas, Sam Houston University Texas, Royal College of Music and Chetham's School of Music.
Alongside teaching at Birmingham Conservtaoire, Naomi also teaches for the City of London School for Boys. Pervious posts include the Purcell School, Royal College of Music Junior Department and Harris Academy, Peckham. She has been part of the "Live Music Now" outreach programme.
Naomi has been a tutor for UK Selmer Summer Schools, Hindhead Summer School, Nottingham Saxophone Day and Weekend and Well's Cathedral School Saxophone Day.
Left to right -

From Michael Wolters: Queer Concerto for 9 saxophones and symphony orchestra. Premiere at RBC, 2018

With students of Conservatory "G. Rossini" Pesaro, 2019

RBC saxophone students at Zagreb with J.M. Londeix, 2018